It's a cold, windy, and snowy Sunday here. That makes it a perfect day to cozy up with a blanket and hot beverage, and binge-watch some shows! I am a history nerd, and many of you already know that historical fiction is one of my favourite genres. The past just fascinates me; so, naturally—when it comes to tv series I love—historical dramas are at the top of my list.
Here are my top ten historical TV series (in no particular order):

---
Outlander
Follows the story of Claire Randall, a married combat nurse from 1945 who is mysteriously swept back in time to 1743, where she is immediately thrown into an unknown world in which her life is threatened. When she is forced to marry Jamie Fraser, a chivalrous and romantic young Scottish warrior, a passionate relationship is ignited that tears Claire's heart between two vastly different men in two irreconcilable lives. source
A woman torn between two eras and two men—one of whom is a handsome tartan-clad Scotsman. Need I say more? I adore the book series by Diana Gabaldon, and the TV adaptation does not disappoint. You should definitely read the books though. I will admit that the first season will always remain my favourite, because I just love Scotland as a setting.

---
Peaky Blinders
A notorious gang in 1919 Birmingham, England, is led by the fierce Tommy Shelby, a crime boss set on moving up in the world no matter the cost. source
I kind of have a crush on Cillian Murphy as Tommy Shelby. We'll just ignore the fact that he's the ruthless leader of a Birmingham gang. This show is intense.

---
Downton Abbey
A chronicle of the lives of the British aristocratic Crawley family and their servants in the early twentieth century. source
There are so many memorable characters and moments from this series — not to mention the absolutely stunning setting of Highclere Castle and the marvelous costumes. I also recently watched the movie and loved it! I will never tire of watching Downton Abbey over and over again.
---
Vikings
Vikings transports us to the brutal and mysterious world of Ragnar Lothbrok, a Viking warrior and farmer who yearns to explore – and raid – the distant shores across the ocean. source
I am utterly fascinated by the Vikings! I've visited (and revisited) countless "Viking" historical sites and museums throughout Europe. While sometimes a bit gory for my taste, I love the era, setting, and plot line enough to just cover my eyes for those bits.
---
Poldark
Aidan Turner (The Hobbit) stars as Ross Poldark, a redcoat who returns to Cornwall after battle to discover that his father is dead, his lands are ruined, and his true love is engaged to another. Can Poldark change his destiny, restore his lost fortune, and reclaim his love? source
Another excellent TV series based on books. The setting is spectacular (I MUST visit the filming locations next time we're in the UK), there is plenty of drama, and I sure don't mind the scenes of shirtless Aidan Turner. Haha, this is the part where I have to admit that — yes — many of these shows happen to have very handsome men in them. Coincidence? I'll let you decide.
---
Mr Selfridge
In 1909 London, an American retail tycoon arrives at the unfashionable end of Oxford Street to jettison fusty British tradition and open one of the finest department stores the world has ever seen. Three-time Emmy® winner Jeremy Piven (Entourage) stars as Harry Gordon Selfridge, the flamboyant—and troubled—entrepreneur and showman seeking to provide London's shoppers with the ultimate merchandise and the ultimate thrill. source
This was such a unique take on this period of history! I love that it's based on the life of the real founder of the department store. Such a fascinating time, and I just can't get enough of the fashions during this time period.
---
Land Girls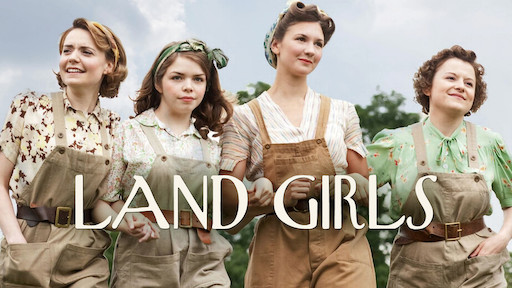 Follow the lives, loves and highs and lows of four members of the Women's Land Army who are working at the Hoxley Estate during World War II. source
I'm definitely a sucker for any books, shows or movies set during WWII. I love that this series focuses on the women's lives. I'm not sure whether it's still on Netflix, but I watched it several years ago and it might be time to rewatch it soon!
---
The Bletchley Circle
In post-war Britain of 1952, four former workers at the top secret Bletchley Park with an extraordinary flair for code breaking, have slipped back into the anonymity of civilian life. One of the four female friends summons the others to use their unusual skills to track down a serial sex killer. source
If you're a fan of Agatha Christie or Sherlock Holmes, I think you'll love this one! It's another that I watched years ago and would like to revisit. It's a suspenseful mystery that highlights how WWII transformed many women's lives.
---
Medici: Masters of Florence
A political family drama set in Florence in the early fifteenth century. Cosimo de Medici finds himself at the helm of his banking dynasty when his father, Giovanni, dies suddenly. source
I haven't come across many TV series set during this time period, and I am all for it! While it is definitely more of a soap-opera drama than a historically accurate look at the Medicis, I enjoyed the gorgeous setting and of course, the drama!
---
The Tudors

Jonathan Rhys Meyers stars in this original, history-based drama series as the young, vibrant King Henry VIII, a competitive and lustful monarch who navigates the intrigues of the English court and the human heart with equal vigor and justifiable suspicion. Natalie Dormer ("Anne Boleyn"), Jeremy Northam ("Thomas More"), Maria Doyle Kennedy ("Queen Katherine"), James Frain ("Thomas Cromwell") and Peter O'Toole ("Pope Paul III") round out the all-star cast of this lavish epic. source
I took an entire course on Tudor England, have read countless books, and have watched far too many documentaries about this time period — featuring the notorious King Henry VIII. It premiered in 2007, so it's been around for awhile, and I think I've watched the series at least twice now. I just can't get enough of it! Royalty, drama, battles, sex, scandal…
---
Today we're watching Poldark — still on series 2, but making good progress! Vikings will be next on my list, since I still have a few to catch up on. Now I'm definitely in the mood to start rewatching some of these others though!
Have you watched any of these series? Do you have any other historical TV show recommendations?